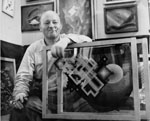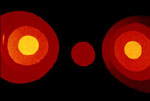 The Fischinger Trust
Oskar Fischinger, 1900-1967
Palm Desert California, USA
Tel (760)834-8183
This is the official website of the Trust and a resource for information about the life of Elfreide and
Oskar Fischinger.
This site also contains Biographies, Filmography, Bibliography, Articles, Links and Research Resources
Contact: fischingerarchive@msn.com regarding paintings or image requests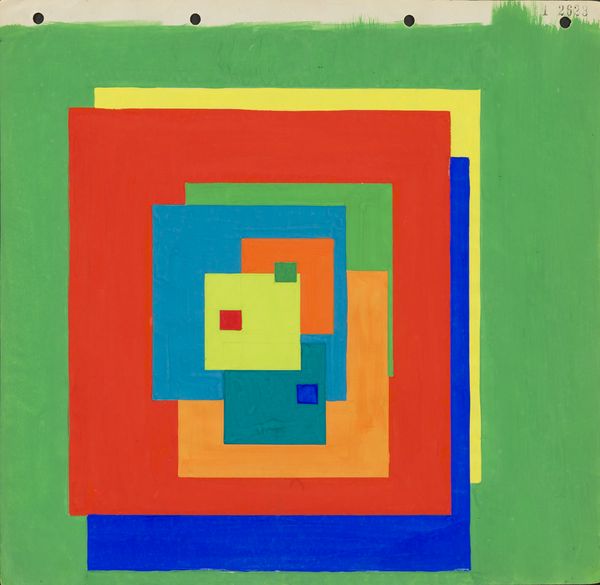 Left, original goache from the film Squares, 1934

Right, Major Movement, 1948 oil

---

Books

Oskar Fischinger: Experiments in Cinematic Abstraction (2013). Publisher: Thames Hudson, 2013.

---
---
Paintings
Fischinger created over 800 paintings in his lifetime. Many are in major museums and collections worldwide, including Los Angeles County Museum of Art, Smithsonian American Art Museum, Solomon Guggenheim Museum New York, Norton Simon Museum, Pasadena CA; and Yale University's Art Gallery. Contact the Fischinger Trust for matters regarding the paintings and drawings of Oskar Fischinger: fischingerarchive@msn.com
Photographs and Images
Please direct requests for painting image reproduction permission, and requests to fischingerarchive@msn.com - please provide full and specific details regarding the publication and requested use (print only, ebook, online, etc; circulation or print run, editor of book if applicable, publication date, etc.). If you are seeking reproduction permission for painting images to accompany an article, please email text of the article as well. Requests generally require 2-4 weeks processing time. Permission is required before publishing a photograph of Fischinger, or an image of his paintings.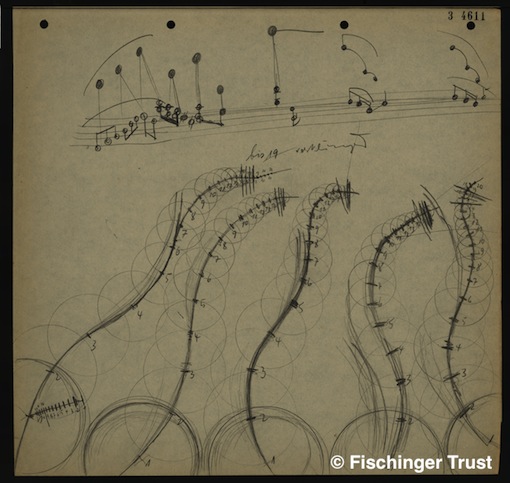 Movement diagram for the film Kreise (1933-34)
Papers, Research Material
The Fischinger Trust

Margaret Herrick Library - www.oscars.org/library

Some materials, including an original Lumigraph, Motion Painting panels, paintings, some animation drawings from Kreise, and papers (German language, some selections from Oskar's early business papers) are at:
www.filmarchives-online.eu in Frankfurt, Germany.

---

Resources

Selected Bibliography (on External site, the CVM Fischinger Research pages)

Also see William Moritz's Fischinger biography "Optical Poetry: The Life and Work of Oskar Fischinger" published in April 2004 by John Libbey & Co. Available on amazon.com worldwide.

Film descriptions in Canyon Cinema catalog

---

News and Announcements
2020: Sullivan Goss: An American Gallery. Santa Barbara, CA exhibition: DREWES | FISCHINGER | GORDIN THE INVENTION OF AMERICAN ABSTRACT ART OCTOBER 30 - JANUARY 4, 2021
Fall 2015: One painting and three Fischinger films are part of the exhibition Art of Music at San Diego Museum of Art (California). Through February 2016.
New Fischinger book: Oskar Fischinger (1900-1967): Experiments in Cinematic Abstraction. In distribution through Thames & Hudson. Edited by Cindy Keefer and Japp Guldemond.
2012: Fischinger films included in museum exhibitions in Venice, Italy; Mainz, Germany; Calgary, Canada; Taipei and other cities.
Raumlichtkunst restoration/recreation project by Center for Visual Music, of Fischinger's 1920s multiple projector performances, is a 3 screen HD installation in selected museums, at The Whitney Museum, New York, 2012, and The Tate Modern, London, June 2012 - March 2013. Preserved with an Avant Garde Masters Grant, funded by the Film Foundation and administered by the National Film Preservation Foundation.
Optical Poetry: Oskar Fischinger Retrospective screened at Tate Modern, London on June 1; at LA County Museum of Art, April 27, and Whitney Museum of Art, October 20, 2012. Featuring 35mm preserved prints of Fischinger's classic films, including Allegretto, Komposition in Blau, Motion Painting no. 1, Studies 5,6,7,8; Kreise, An American March, Radio Dynamics, Walking from Munich to Berlin, Spirals and more. Organized by Center for Visual Music.
William Poundstone's ARTINFO blog, on Fischinger, January
January 7, 2012 - Two part Optical Poetry: Fischinger Retrospective program screened at The National Gallery of Art, Washington DC.
October 2011 - Several Fischinger films were included in 2 exhibitions, in Lucca, Italy (on Veronesi) and in Movable Types in Mainz, Germany (Gutenberg Museum)
October 2011 - Lecture on Oskar Fischinger's Ornament Sound experiments, 1932-1950s, by Cindy Keefer at Seeing Sound 2 symposium, Bath, UK.
Summer 2011 - Fischinger's film Radio Dynamics was in the Watch Me Move! huge animation exhibition at Barbican, London; now on tour for 5 years to Calgary, Canada then Asia.
July 2011 - Large painting exhibition with dozens of Oskar's paintings, at Peyton-Wright Gallery, New Mexico.
June 2011 - unshot animation from the Ornament Sound series was on view in The Unfinished Film at Gladstone Gallery, New York.. From the CVM Collection.
May 2011 - Fischinger 2-part Retrospective screened at The Stuttgart International Animation Festival.
September 2010: Celebrating Elfriede Fischinger on her 100th Birthday: A Benefit Exhibition and Reception, in Los Angeles. Hosted by Center for Visual Music in collaboration with The Goethe-Institut Los Angeles and The Fischinger Trust. This special evening featured an Exhibition of selected photographs and artifacts about Elfriede's life, paintings by Oskar Fischinger, a reception, and a Screening of Home Movies and Videos of Elfriede. Highlights include Oskar's first Stereo Painting (1949), The Lumigraph film (1970) by Elfriede, and unshot animation drawings by Oskar.
Fischinger films screened at The Tate Modern, London as part of the Expanded Cinema symposium, 2009.
Leonardo Electronic Almanac published C. Keefer's article 'Raumlichtmusik' - Early 20th Century Abstract Cinema Immersive Environments. Leonardo Electronic Almanac, Creative Data Special Issue. Leonardo: The International Society for the Arts, Sciences, and Technology, and MIT Press. October 2009. PDF.
In 2009, Fischinger films were included in museum exhibitions at ZKM (Karlsruhe, Germany), "See This Sound" at Lentos Kunstmuseum (Linz, Austria), in Miami, Florida and Basel, Switzerland. Fischinger films were in a regular series at The Guggenheim Museum, New York (on 35mm film!)
San Diego Museum of Art acquired a Fischinger painting.
Three Oskar Fischinger paintings (including a 1944 oil on celotex) were in the exhibition Modernism and the Wichner Collection, at The Long Beach Museum of Art, Long Beach, CA, through August, 2009.
November, 2008, Motion Painting No. 1 screened at Tate Modern, London.
Sept-Nov, 2008: Original charcoal animation drawings from Studie nr. 8 exhibited at Akademie der Künste, Berlin, in the Notation exhibition.
July, 2008. Il Cinema Ritrovato Festival, Bologna: Motion Painting No. 1 screened accompanied by the Bologna Orchestra at Piazza Maggiore in special Avant-Garde Evening event. 35mm.
May 25, 2008: Screening of Oskar Fischinger: Optical Poetry Retrospective at Australian Cinematheque at Queensland Art Gallery/Gallery of Modern Art, Brisbane, Queensland, Australia..
November 3 - San Diego Museum of Art's Animation Symposium includes Oskar Fischinger and Visual Music Animation - Exhibition and Authenticity in the Age of Digital Reproduction, a lecture with film clips presented by Cindy Keefer of CVM.
Fischinger's original Lumigraph was performed at the Deutsches Filmmuseum, Frankfurt, on February 2, 2007 by Barbara Fischinger, assisted by Cindy Keefer.
2006-08: Two Fischinger paintings were part of exhibitions: one in the spectacular The Société Anonyme: Modernism for America (see exhibition schedule for venues); which toured 2006-2008 at the Hammer Museum Los Angeles, and venues in Washington DC, Dallas, Nashville; and in 2010, Yale University, New Haven, CT. Another painting was exhibited at The Laguna Art Museum (California).
Oskar Fischinger: Ten Films DVD receives Special Mention Award at Il Cinema Ritrovito Festival, Bologna, Italy, July 2006; and was reviewed by Leonard Maltin on his Video View syndicated radio program (June 28), by Jonathan Rosenbaum in Cinema Scope (September) and in Jerry Beck's Cartoon Research. For more press about the DVD, see DVD Press Kit
Feature article on Fischinger in the Summer (2006) issue of Tate ETC, Tate Museums, UK, Where Abstraction and Comics Collide, by Dr. Esther Leslie
Radio Dynamics, Study nr. 6 and Ornament Sound were in the ZKM exhibition Light Art from Artificial Light, Nov. 19, 2005 through August, 2006 at ZKM, Karlsruhe, Germany. English description.
Oskar Fischinger Retrospective screened at Lincoln Center, New York January 2, 2006. Featuring 35mm prints preserved by the Academy Film Archive, Center for Visual Music and Fischinger Archive, with the support of Film Foundation, Sony, Deutsches Filmmuseum and Cinematheque Quebecoise. An IB Technicolor print of An Optical Poem screened, thanks to Warner Brothers. Show included many new prints, including R-1 ein Formspiel, Composition in Blue, Motion Painting, Study no. 7. www.filmlinc.com. View the Press Release. Read the Village Voice review.
"Oskar Fischinger: Motion Paintings" Exhibition of Fischinger's paintings at Goethe-Institut, Washington DC, Sept. 8 - Oct. 26, 2005. Accompanying film screening: Oskar Fischinger Retrospective at Goethe, September 19.
Fischinger in "Visual Music" exhibition press: Artforum magazine, October 2005 and also Summer issue 2005; Washington Post, July 1, 2005, Los Angeles Times, Los Angeles Weekly, Modern Painters (UK) September 2005, Wall Street Journal..
"Visual Music" exhibition at MOCA Los Angeles (Feb - May 2005) and The Hirshhorn Museum, Washington, DC (June 23 - September 11, 2005), included 5 Fischinger films plus animation drawings and Ornament Sound Experiments ephemera. More about the films in the exhibition (Allegretto, Radio Dynamics, Study nr. 7, Lumigraph film excerpt and Ornament Sound excerpt) can also be found at CVM's Visual Music films page. The exhibition catalog features many images and pages on Fischinger, and is available through amazon.com. Fischinger films were also screened (on film) in Center for Visual Music's film screenings accompanying the exhibition.

"Motion Paintings" Exhibition of Fischinger's paintings, March 11-May 30, 2005 at Jack Rutberg Fine Arts gallery in Hollywood, CA. Press release. Portfolio of paintings in show
Sons et Lumiere exhibition at Centre Pompidou, Paris (Sept 2004-Jan 2005), included Fischinger's Ornament Sound and Studie 8 films, plus numerous Kreise animation drawings, Ornament Sound drawn sound strips and documentation, and several of his Fantasia-era sketches. The exhibition included work by Oskar's influences and contemporaries including Kandinsky, Klee, Pfenninger, John Cage, Schoenberg, Richter and many others. The exhibition catalog features a number of pages on Fischinger.
Dr. William Moritz's biography "Optical Poetry: The Life and Work of Oskar Fischinger" was published in April 2004 by John Libbey & Co. It is distributed in the US by Indiana University Press, and available on amazon.com worldwide. In honor of the book release, events and screenings of Fischinger films were held in Los Angeles on March 14 (Filmforum) and March 17 (Cal Arts), and Pacific Film Archive, Berkeley on April 13, 2004.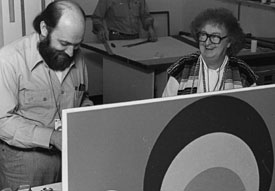 Bill Moritz and Elfriede Fischinger
We are deeply saddened at the passing of our dear friend Bill Moritz, on March 12, 2004, in California. His passing leaves a great void in the film world and in our hearts.
December 2003: The Oskar Fischinger Retrospective of 35mm films screens at Goethe-Institut London, and several venues in Scotland.
Oskar's "3-D" Film tests screened at the World 3-D Film Expo at The Egyptian Theatre in Hollywood, CA, in Sept 2003. Beautiful new 35mm prints were produced for the festival, thanks to SabuCat Productions, Center for Visual Music and Triage Motion Picture Services, Hollywood.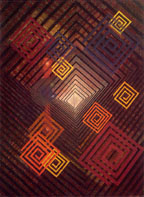 Request for Information
If you own a Fischinger painting, drawing, or cell, we would appreciate hearing from you. We are maintaining a catalog raisonne and documenting all of the paintings, and appreciate receiving information.

We are also interested in documents, papers, letters and information regarding Oskar Fischinger, particularly correspondence from Oskar. Contact: fischingerarchive@msn.com
Articles/Essays
Canemaker, John. The Original Laureate of an Abstract Poetry. New York Times, July 2, 2000 (update to this article: The Fischinger Archive no longer has any affiliation with Iota).
-- Elfriede! On the Road with Mrs. Oskar Fischinger, Funnyworld, No. 18, 1978
Fischinger, Elfriede. Writing Light, 1984
Fischinger, Oskar. The Problem of Color and Sound in Film. 1930
-- Sounding Ornaments. 1932
-- My Statements are in My Work. Art in Cinema catalog, San Francisco, 1947
-- True Creation, 1949
-- A Statement About Painting, 1951, for exhibition at Frank Perls Gallery, Los Angeles

Janiak, Larry and Dave Daruszka. Oskar Fischinger. An Interview with Elfriede Fischinger. Zoetrope 1979.
Keefer, Cindy. A Lifetime in Animation: The Glamorous Bill Moritz, Animation World Magazine, June 2003
--"Space Light Art" - Early Abstract Cinema and Multimedia, 1900-1959 White Noise exhibition catalog, ACMI Melbourne, 2005
--"'Raumlichtmusik' - Early 20th Century Abstract Cinema Immersive Environments." Leonardo Electronic Almanac, Creative Data Special Issue, Vol 16, no 6-7. MIT Press/The International Society for the Arts, Sciences and Technology, October 2009. (PDF).
Langlois, Philippe. Oskar Fischinger Leonardo, Feb 2001
Leslie, Dr. Esther. Where Abstraction and Comics Collide, Tate ETC, Tate Museums, UK, Summer 2006.
Moritz, Dr. William.
-- Oskar Fischinger: Artist of the Century. Animac Magazine, 2001(Lleida, Spain)
-- In Passing...Elfriede Fischinger Animation World Magazine, June 1999
--The Dream of Color Music, and Machines That Made it Possible, Animation World Magazine online, Issue 2.1, 1997
-- Gasparcolor: Perfect Hues for Animation. Presentation at the Louvre, Paris, 1995
-- Oskar Fischinger: Leben und Werk, in Optische Poesie, (Frankfurt: Deutsches Filmmuseum, 1993)
-- The Private World of Oskar Fischinger. Liner notes, "The World of Oskar Fischinger" laserdisc, LaserDisc Corporation, Tokyo, 1988.
-- "Abstract Film and Color Music," in The Spiritual in Art: Abstract Painting 1890-1985 (LACMA exhibition catalog), 1986
-- "Towards a Visual Music," Cantrills Filmnotes, Sydney, August 1985
-- You Can't Get Then From Now, Part I: Oskar Fischinger, in Journal: Southern California Art Magazine, No. 29, 1981
-- "Non-Objective Film: The Second Generation." In Film as Film: Formal Experiment in Film, 1910-1975, Hayward Gallery/Arts Council of Great Britain, 1979. Fischinger excerpt from article.
-- "The Films of Oskar Fischinger," Film Culture No. 58-60, 1974

Morris, Gary. "Oskar Fischinger's Visual Music" Bright Lights Film Journal, Sept 1998
Tobias, James. Sync: Stylistics of Hieroglyphic Time. Temple University Press, 2010. See Chapter 3: "For Love of Music: Oskar Fischinger's Modal, Musical Diagram."
Willis, Holly. Short Form: Classic Avant-Garde 'Toons Get Reanimated on IFILM

Elfriede Fischinger, c. 1932
Assorted Links:
Dreams of Abstract Mass Media, by Scott Sona Snibbe, July 2010
Oskar's Oklahoma Gas ad on CVM's Vimeo channel, plus a clip from one of Elfriede's Lumigraph performances
Wavelengths by Ed Halter, in Village Voice, New York, December 2005
Oskar Fischinger, Fast on the Draw. Review of Painting Exhibition, Washington Post, Sept. 15, 2005
Cartoon in Montreal Mirror, June 2005
Review of Moritz's book "Optical Poetry." by Robin Allan. AWN, 2004
Motion Painting No. 1 on MichaelBarrier.com
The Missing Link: Oskar Fischinger Between European Avant-Garde and New American Cinema, March 2002 by Walter Schobert, at Edinburgh, Scotland Conference "Avant-Garde"
Art in America Review, Oskar Fischinger at Jack Rutberg, June 2001 by Michael Duncan
Review of Painting Exhibition at Jack Rutberg Fine Arts, Los Angeles, 2000 by Ray Zone
Review of Painting Exhibition at Jack Rutberg Fine Arts, by Mario Cutajar
Artscene: Oskar Fischinger by Mario Cutajar
Milestones of the Animation Industry in the 20th Century, 2000, by Karl Cohen, in Animation World Magazine
Cross-Influence in Abstract German Animation of the Silent Era, 2000
Motion Painting selected for The National Film Registry, Library of Congress, 1997
Oskar Fischinger: A Retrospective Notes on his paintings by Susan Ehrlich, for Tobey Moss Gallery, 1988
John Cage audio interview on KPFA, 1987 (discusses how he met Fischinger)
AskArt Listing: contains brief bibliography of art books and art periodicals regarding Fischinger

About Us
The Fischinger Trust is also known as the Elfriede Fischinger Trust. Previously, Elfriede used the term "The Fischinger Archive" to conduct business.

The Trust and Archive thanks The Deutsche Film Institut, The City of Frankfurt Germany. The Academy Film Archive (Michael Pogorzelski - Director), The Whitney Museum, Tate Modern London, Michael Friend, Pacific Film Archive, Sony, John Canemaker, Cinémathèque québécoise, Goethe Institut Los Angeles, Leonard Maltin, Jerry Beck, Joe Kennedy, Cecile Starr, Yann Beauvais, Jean-Paul Georgen, Heike Sperling, Thomas Reynolder, Timothy Finn, Susan Bolles and many others for their support.

All images copyright The Elfriede Fischinger Trust and Oskar Fischinger, 1922-2015. Text and images in these pages are protected by copyright law (Title 17 U.S. Code). Please seek permission for reproducing any images or text.